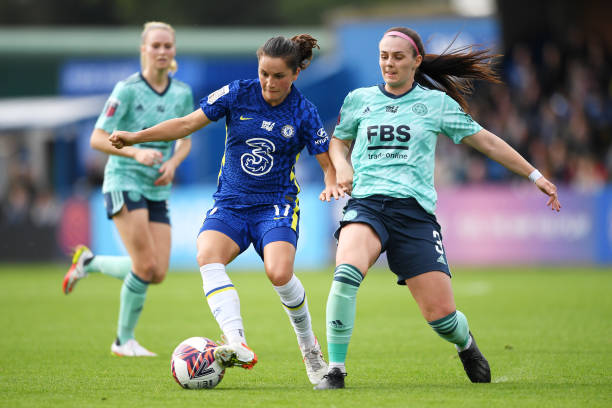 Jessie Fleming: An overview
Full name: Jessie Alexandra Fleming
Date of birth: 11th March 1998
Age: 24
Place of Birth: London, Ontario, Canada 
Height: 1.64m (5 ft 5 in) 
Current Squad: Chelsea WFC 
Position: Midfielder 
Number: 17
Jessie Fleming: Club Career
After playing collegiately at UCLA from 2016 to 2019, Jessie Fleming signed with Chelsea on the 22nd July 2020. In spite of signing a three-year deal, she didn't make her full debut till late on in the season. However, she started strong as she lifted her first piece of silverware on debut in the 2020 Women's FA Community Shield (which ended Chelsea 2-0 Manchester City).
Fleming made her first start in a Chelsea shirt on the 16th of December, when she played the full 90 minutes against Benfica at home. Her first league start came on the 27th of January 2021 as Chelsea won 4-0 against Aston Villa, additionally breaking the unbeaten record in WSL.
Following this, in March 2021, Fleming got the taste of winning more silverware. She played the full 90 in the 2021 Women's League Cup Final in what was a thumping 6-0 victory over Bristol City.
After reaching the 2021 UWCL Final, Jessie remained an unused substitute in what was a painful 4-0 defeat. Jessie saw out her first season at the club featuring 26 times in all competitions, whilst winning the Continental Cup, Community Shield and WSL. She showed herself to be an evolving midfield player and quickly showed why she was so highly rated, both in her native Canada and across world football.
Embed from Getty Images
Surprisingly, Jessie Fleming (who was known a prolific offensive force for her national side), did not score for Chelsea in her first season. She opened her account against Manchester United in a convincing 6-1 away victory on the 26th of September 2021. She finished off the scoring in injury time, slotting home in the 92nd minute. Moreover, it was the perfect ending to an overall convincing and ruthless performance (for reference on ruthless please see Pernille Harder's solo run and goal from the halfway line).
Embed from Getty Images
She also picked up additional silverware several months later, starting at Wembley in Chelsea's impressive 3-0 FA Cup Final win over Arsenal. Fleming's ability for scoring important goals subsequently did come to the fore in the second half of the season. She notched decisive goals against Tottenham and Reading resultantly ensuring victory for the Blues.
In the 2021-22 WSL season, Jessie Fleming played a part in 21 times as Chelsea once again won the title. During Fleming's 1059 minutes of football, she tallied 6 goals and 4 assists. In addition, she also had her best run since signing for the club. Her aim at the start of the season was to cement her place in Emma Hayes Starting XI and she certainly achieved this.
Embed from Getty Images
International Career
Jessie Fleming is a player who managed to build herself a glittering international career, before she'd started playing club football. To illustrate, she had earned 77 caps and scored 10 goals before she had even signed for Chelsea. Working hard led to her becoming the second-youngest player to play for the Senior Canada squad, aged just 15.
Fleming was a key member of the bronze-winning squad for Canada at the 2016 Rio Olympics. Of course, it makes sense that she was also involved in both the 2015 and 2019 Women's World Cup, working hard for her country. Notably, in the 2019 tournament, Fleming played every minute of every game. She scored her first World Cup goal and bagged herself POTM in a 2-0 victory over New Zealand.
Presently, Fleming has earned 99 caps for Canada, with 85 of these being starts, tallying 15 goals and 5 assists. During the 2021 Olympics in Tokyo, Jessie spent most of her time on the pitch as the popular 'babyface' of Canadian football. She also took on the armband at the ripe age of 23 after fellow Canadian veteran Christine Sinclair was unavailable. This competition ended in joy as Canada clinched the Gold Medal, with Jessie scoring two key penalties. One was scored in the semi-final and another in the final to break the hearts of the USA and Sweden.
Embed from Getty Images
Frequently named in the starting line-up for Canada, Jessie Fleming has been hailed as a world-class player, who, in the next few years, could well be the best in the world, according to teammates like Christine Sinclair: "She is one of a handful of players on our team where the potential is just limitless; I am just happy to be around for the ride".
Personal Life
Jessie is quite introverted personally and doesn't often use social media, however, she is known to be very close with her younger sister. If she is not posting about her life within football she is most likely posting about her sister or her two golden retrievers.
You can find out more about Fleming in Their Pitch's exclusive podcast with her.
Jessie Fleming: Strengths
Ability in ball progression upfield
Intelligent passing range
Awareness off the ball
Creative and hardworking
Honours
Chelsea
FA Women's Super League: 2020-21, 2021-22
Women's FA Cup: 2020-21, 2021-22
Women's League Cup: 2020-21
FA Women's Community Shield: 2020
UEFA Women's Champion's League runners-up: 2020-21
Canada
Summer Olympics: Gold 2021, Bronze 2016
Algarve Cup: 2016
Four Nations Cup: 2015
Written by A Bradley